Now that I've made a little progress, I thought I'd post and let you know where I've got to!
This week I finished gridding. It's not stitched properly as I'll think about borders when it arrives back with me, but I've tacked the outlines of each square in the grid. I'd quite like to adapt the border for 'Through the Woods' to go round all the squares. My fabric is very long and thin as I'm going for a bellpull type layout. It's a Zweigart fabric in Wedgewood blue which is a beautiful colour.
I've also made a start on my square which is an amended version of 'Through the Woods'. I've made a little more progress since I took the photo below (there is a house now).
I've been tossing ideas for various themes around in my head and haven't come to any real concludion. I started out thinking of a House theme, but wasn't entirely happy with it. Then I thought of a Sun, Moon and Stars theme, but I'm not sure there are enough design featuring suns, moons, and/or stars, and anyway I think it excludes one or two of my favourite designs (eg. Hannah Purington). So I think I'm heading back to the House theme, but if you include sun, moon and/or stars, all the better!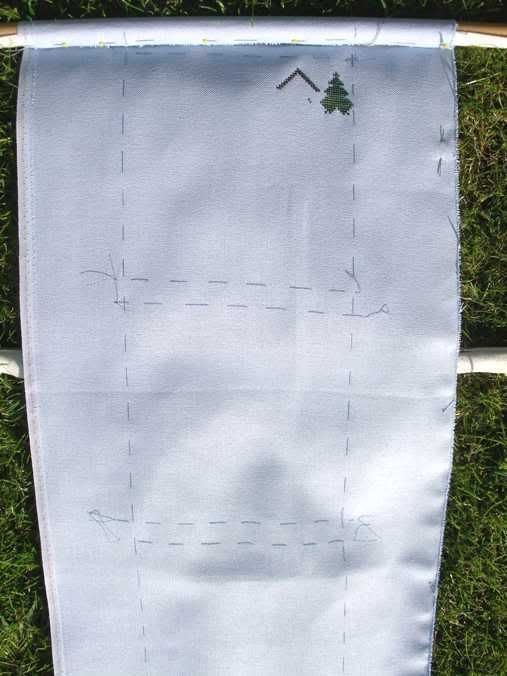 I won't be able to stitch on this after next week as I'll be away on holiday for two weeks. I may have to post it at the end of next week too, as I'm not sure that I'll be leaving enough postage time if I wait until I'm back from holiday (although next week seems faaar too soon). I'll think about it! lol